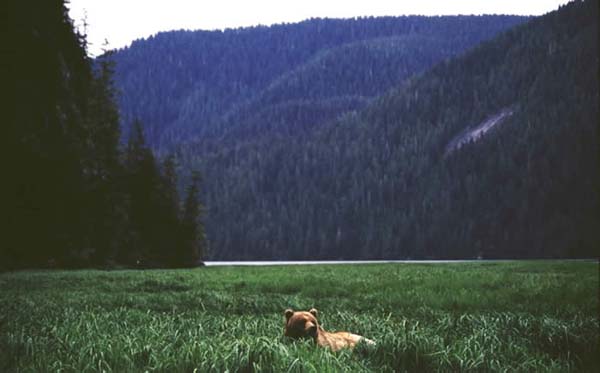 HEARTLAND OF THE KHUTZEYMATEEN GRIZZLY BEAR SANCTUARY
THREATENED BY PROPOSED PRINCE RUPERT GAS LNG ROUTE
Trans Canada Pipeline Company has been contracted by Petronas, a state company owned by the Malaysian government, to plan and build Canada's biggest natural gas pipeline through two provincially protected conservancies that adjoin the Khutzeymateen Grizzly Bear Sanctuary on the BC North Coast. Survey work has already started for a major 200 foot-wide right-of-way that will include a major industrial road and compressor station needed for the 4-foot diameter pipeline.
According to VWS bear biologist Wayne McCrory "The survey is apparently being carried out with no park use permit, but with endorsement from the Premier's office. However, a permit will be required for the next stage of creating drilling pads, and may soon be issued by the government; yet the public has been kept totally in the dark, only learning of the surveys from commercial bear viewing operators in the Khutzeymateen Inlet. Any permits issued in the protected conservancies will be in violation of the Park Act".
If allowed, the roaded pipeline corridor through the wilderness parks will set a bad precedent and allow for more pipelines or transmission lines to follow. According to McCrory the pipeline corridor will shatter the ecological integrity of the whole area, and is a threat to every grizzly bear for miles around. People are urged to write Premier Christie Clark and Environment Minister Mary Polack to ask that the surveys be stopped immediately and the pipeline not be allowed in parks and conservancies (See Take Action). See also links to VWS press release and map below.
https://www.vws.org/wp-content/uploads/2013/09/Khutpostergb.jpg
373
600
Valhalla Wilderness Society
https://www.vws.org/wp-content/uploads/2019/09/logo-4-1.png
Valhalla Wilderness Society
2013-09-05 03:34:32
2020-02-05 12:37:59
Khutzeymateen Grizzly Bear Sanctuary Threatened by Proposed LNG Route