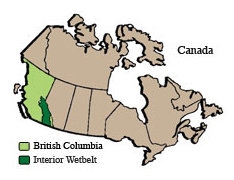 The Inland Temperate Rainforest and its Mountain Caribou are found nowhere else in the world but in the Interior Wetbelt of British Columbia, also known as the Inland Rainforest Region. Species new to science have been found in these forests, due in part to research funded by the Valhalla Wilderness Society, and in part to the independent efforts of scientists to document this threatened biodiversity before it is destroyed by clearcut logging.
Inland Rainforest Crucial for Caribou Habitat
Logging has already destroyed a large part of this ancient legacy. The Mountain Caribou is critically endangered. Recently, 19 environmental groups signed a joint submission to the Mountain Caribou recovery process asking for an end to logging all old-growth forest 140 years or older throughout the region. Please explore the links below to find out why. We hope you will enjoy the photographs of an extraordinary rainforest and its unique biodiverity.