Drinking Water, Slope Stability & Hydrology: Key Issues for the 21st Century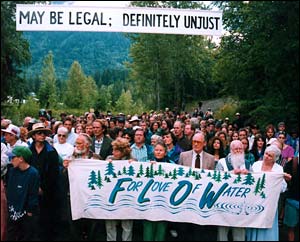 The Valhalla Wilderness Society puts domestic watersheds high on the priority list of current environmental issues. Domestic watershed concerns may seem to be small, separate issues that benefit only a few private interests. But collectively, those small streams have a huge impact on the ecological well-being of whole societies. Regulating water is one of the most powerful arguments for protecting forest. Taken together, the forests and waters of our domestic watersheds contain a wealth of biodiversity, and provide linkage corridors for wildlife.
Human Drinking Water
The worldwide water crisis, in which potable water is literally disappearing from the planet at a rapid rate, is one of those issues (like chemical pollution) that puts humanity amongst the species whose health and ultimate survival are directly threatened. Rural residents who use small surface streams for their drinking water should be considered caretakers of humanity's future water supply.
---
Slope Stability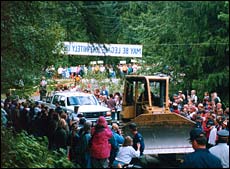 Water is a key factor in slope stability. Right now, due to a history of clearcutting and irresponsible road building, B.C.'s steep mountain slopes are already loaded with time bombs: landslides waiting to happen when the right weather conditions come together. B.C.'s children ride back and forth under these slopes in school buses, as do many of us travel on routes beneath slopes that have been or may someday be destabilized because of logging and road building. The taxpayers are now paying huge costs to repair damage to highways and creek beds due to landslides; there have been wrecked houses and even some human lives lost. These costs will continue to grow.
---
River Channel Stability
In B.C., the impacts of simple erosion are little talked about. The long-term impact that's accruing is massive floods. All the way back into ancient history, there are records of the siltation of river beds caused by deforestation of slopes, resulting in massive floods. The government has always told us this can't happen here because of the "sustainable yield" method of logging. But guess what? Massive floods filled with toxic chemicals picked up by floodwaters have already caused disasters in the U.S. Pacific Northwest, with horrendous financial costs, as a result of a long history of clearcutting, mining and cattle grazing.
---
Flooding, Drought and Agricultural Needs
After spring flooding flushes out the watersheds, there may be insufficient water left for the rest of the year. This greatly increases the vulnerability to drought. In B.C., water from glaciers is a big factor in our water supply. But our glaciers are disappearing rapidly as the planet heats up. Thus it is all the more important to protect all our existing water sources. If you think there will always be water to drink that can be brought in from somewhere…well, economically that is not always true. And that doesn't take into account the huge quantities of water needed for agriculture to feed humanity's growing populations. These hard facts caused the government of China to crack down hard on deforestation.
---
The Science of Hydrology is Scarcely Used in B.C.
In working with hydrology and slope stability professionals, VWS has learned that the science of eco-friendly forestry currently supported by environmental groups is not enough for the protection of ecosystems. For instance, various logging models have taught us to equate water protection with how wide a strip of trees is left along a creek after logging. We were taught that the bigger streams need wider leave strips.
However, hydrological science shows that damage to stream channels from erosion can begin far upslope from the creek bed. Under certain conditions, hazardous events starting at high elevations hundreds or thousands of metres away can come all the way to the valley bottom, either through landslides or debris flows down streams. And, according to U.S. hydrology expert Allen Isaacson, where streamside buffer strips are used, the smaller streams should receive wider strips than the larger, low elevation creeks and rivers. This is just some of what we are missing by focusing on ecoforestry to the exclusion of hydrology.
This omission is due, in great part, to the stunted state of the science of hydrology in B.C. In scientific circles in B.C., concerns for the effects of erosion and abnormal peak flows on stream channel stability receive little attention because the dominance of the timber industry keeps this kind of practice suppressed.
Studies done by corporations and the B.C. government before logging or road building often exclude hydrology altogether. B.C. planning focuses a great deal on terrain hazard assessment, i.e., angle of slope, soils, rockfalls, etc., as seen through aerial photography and mapping, and upon engineering roads to "mitigate" impacts. Yet it is the water on the slope (sometimes underground) that determines how an area will react to logging and road building. And sometimes the problems created are too big to be mitigated over the long term.
Environmentally concerned citizens and organizations need to be aware that hydrology principles are key factors in protecting rivers and streams, and all the species dependent upon them.
---
Networking for Water
Because domestic watersheds are small, local areas, watershed groups are also small and have tended to remain separate. But they have little political clout that way. They can only be empowered by forming alliances with one another. Watershed solidarity needs to be extended to the provincial level to increase this power. You can begin by visiting the Web site of the B.C. Tap Water Alliance and signing their petition to protect water sources with watershed reserves.
---
Take Action Now!
The Valhalla Wilderness Society needs your help to continue our campaigns.
Find out how you can help prevent further destruction of our precious wilderness and wildlife.