Selkirk Mountain Caribou Park Proposal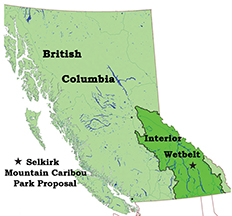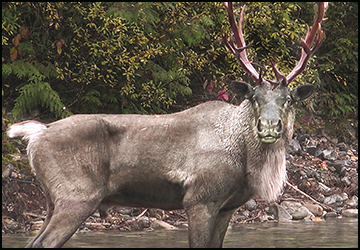 The proposed park is in the heart of BC's mountainous Interior Wetbelt. This region has the only Inland Temperate Rainforest in the world, and the only mountain caribou adapted to living in deep  snow high in rugged mountains in winter. These "deep-snow mountain caribou" have been assessed by COSEWIC as genetically unique, irreplaceable and endangered. The Central Selkirk herd in the park proposal is severely endangered and has dropped from 98 to 28 animals since the park was first proposed. It's decline is due chiefly to excessive logging, and secondarily to snowmobiling in its winter habitat. Although the proposal is named after this species, it is not a single-species park proposal. The Inland Temperate Rainforest harbours hundreds of species ranging from grizzly bears down to rare rainforest lichens. Many of these are at risk due to destruction of the old-growth forest.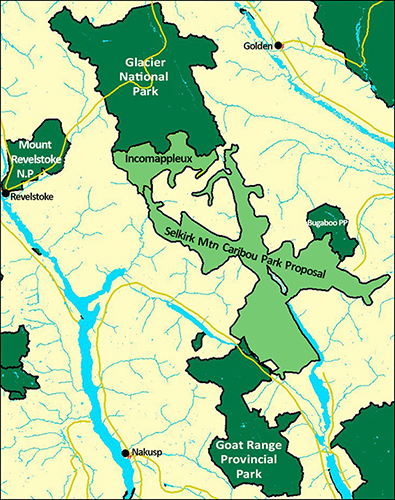 Two BC Auditor General reports have said that BC is not protecting biodiversity because parks are too few and too small. The park system needs to be be expanded, and parks must be connected by protected travel corridors if grizzly bears and mountain caribou are going to survive.
The continuity of natural habitat for food, shelter and travel for wildlife is being broken by too many clearcuts of low- and mid-elevation old-growth forest.  Although the forest grows back, mountain caribou cannot live in young forest and grizzly bears are often shot along logging roads.
The park proposal includes parts of four rivers to connect three existing parks. While much forest along the rivers has been clearcut, there are also key remaining stands and valleys of old-growth forest along them, and the rivers contain blue-listed bull trout, kokanee salmon and giant Gerrard Rainbow trout. About 50% of the park proposal has been designated by the government as Ungulate Winter Range for mountain caribou, but these areas are poorly protected.
The rivers provide crucial food sources and travel corridors for large wildlife, and contain blue-listed bull trout, kokanee salmon and in some cases giant Gerrard rainbow trout. The Incomappleux River (right) originates in a glacier in Glacier National Park and travels 18 kilometres within park, unforested due to continuous avalanches. The Selkirk park proposal would protect another 17 kilometres of the river, as well as a totally intact tributary, Battlebrook Creek. Together they form a 27,364-hectare wilderness contiguous to Glacier National Park. The forest along the river and Battlebrook is extremely rare, very wet primeval rainforest.  There are many two- to three-metre diameter trees in the 800-1,500 year range. The oldest range up to four metres and an estimated 1,800 years old.
Quesnel Lake Wilderness Proposal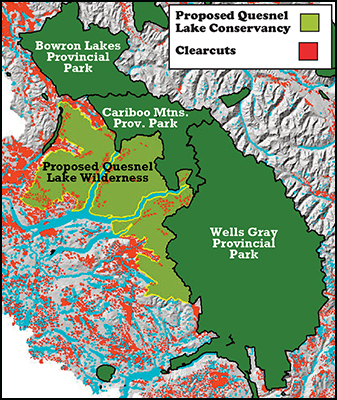 The proposed fully protected area surrounds the North and East arms of Quesnel Lake. It is an area of great significance to First Nations, endangered wildlife, and all British Columbians. As a major tributary to the Fraser River, it contributes to BC's wild salmon stocks, including not only Sockeye salmon, but also endangered Coho salmon. Its forest is rare old-growth Inland Temperate Rainforest, which is habitat for the severely imperilled Wells Gray North herd of endangered mountain caribou.
Rich with cultural heritage sites, the area is in the traditional territory of the T'exelc First Nation (Williams Lake Band) and the Xats'ull First Nation (Soda Creek Band). These are two of the four bands that make up the Secwepemc Nation.
This area is also prime grizzly bear habitat, and bears gather on sandy beaches to feed on a diversity of wild salmon and trout species. Quesnel Lake is very unique as it is thought to be the deepest fjord lake in the world. This proposal contains the largest intact body of old-growth Inland Temperate Rainforest currently known to exist.  It's position adjacent to existing parks would give wildlife a larger intact wilderness.
Existing Mountain Caribou Protection is an Illusion
The Wells Gray North mountain caribou herd is one of the largest in existence, with an estimated 200 animals. The entire park proposal is federally-designated critical habitat for mountain caribou, and the Species at Risk Act says it should be protected. Unfortunately, Canada has done nothing on the ground to enforce this law. An agreement currently under consideration by BC and Canada would not stop the logging and would not protect the low-elevation old-growth forest needed by the caribou.
The provincial government of British Columbia has designated about 66% of the park proposal as Wildlife Habitat Areas (WHAs) for mountain caribou. Unfortunately, a large amount of the WHAs allow some logging, in addition to  past clearcutting before the WHAs were created. Logging more than 30-35% of a landscape kills mountain caribou by increasing predation. The WHAs also do not protect from mining, energy or tourism development. The old-growth forest has trees that may be 500 years old or more.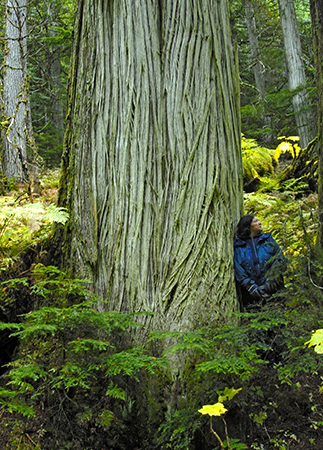 The salmon spawn along the lakeshore and die after spawning. Their remains fertilize the lake, producing giant rainbow trout and a fisherman's paradise. Grizzly bears and bald eagles congregate to feed on the dead fish, carrying the remains into the forest and also leaving behind high-nitrogen droppings. This has fostered an explosion of lichen diversity. Scientists estimate there are hundreds of lichen species in this forest, many of which are associated with old-growth rainforest on the coast. In 2007 species of lichens new to science were found in the forest along Quesnel Lake, as well as rare species such as Nephroma occultum. For photographs and scientific information on Inland Temperate Rainforest click here. VWS is seeking full, permanent protection.