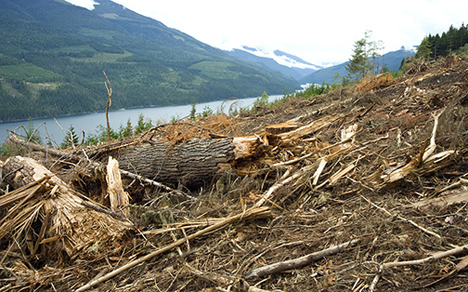 MOUNTAIN CARIBOU PLAN FAILED TO PROTECT
ADEQUATE INLAND TEMPERATE RAINFOREST
While the Province doles out tax dollars to kill wolves and pen caribou, logging
continues to destroy the caribou's habitat, putting many other species at risk.
Ten environmental groups have sent a letter to BC Premier Christy Clark, urging the creation of new parks in the Interior Wetbelt. The groups say the parks would be for mountain caribou and for all species associated with Inland Temperate Rainforest. BC's Conservation Data Centre website shows 40 red- and blue-listed species in the humid/wet cedar-hemlock forests where the mountain caribou range. The proposals are the Selkirk Mountain Caribou Park Proposal, the Quesnel Lake Wilderness and the Walker Wilderness in the Robson Valley. These areas have some of the highest biodiversity in the Interior Wetbelt, and they have formerly been recognized by the BC government as having high values for old-growth Inland Temperate Rainforest and Mountain Caribou. Instead the government is spending hundreds of thousands of dollars on experimental techniques to kill wolves and pen pregnant mountain caribou. If the caribou are lost, all the habitat protected under the recovery plan could revert to logging and other industrial use. The BC taxpayers could be left with nothing to show for millions of dollars spent on years of caribou conservation: no caribou and no new parks to help other species at risk, while the caribou conservation zones revert to logging and other industrial use.
Download the full text of the press release
Download the letter to Premier Christy Clark
Fact Sheet on the Selkirk Mountain Caribou Park Proposal
Fact Sheet on the Quesnel Lake Wilderness Area Proposal
https://www.vws.org/wp-content/uploads/2016/06/4429BgrCk.jpg
292
468
Valhalla Wilderness Society
https://www.vws.org/wp-content/uploads/2019/09/logo-4-1.png
Valhalla Wilderness Society
2015-09-30 11:38:03
2020-02-05 12:37:59
Mountain Caribou Plan Failed To Protect Adequate Inland Temperate Rainforest