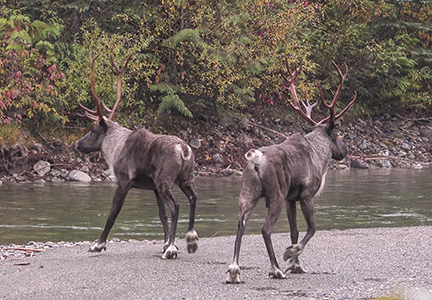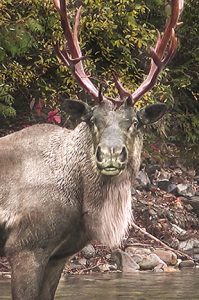 Last year the federal Minister of Environment (EC) announced that Mountain Caribou are facing "imminent threat to recovery" because of habitat loss, and said that IMMEDIATE new habitat protection is urgently required. Unfortunately, negotiations between BC, the EC and some First Nations have already taken one whole year. The result is two government-to-government draft agreements: 1) a proposed "Partnership Agreement" between BC, Canada and two First Nations for the management of South Peace herds; and 2) a proposed "Section 11 Agreement" (named for Section 11 of the Species at Risk Act) for all the herds. The government is now seeking public comments on these two draft Agreements.  The draft Partnership Agreement is approved by VWS and other environmental groups.  The draft Section 11 Agreement is opposed by VWS and various other environmental groups. It includes the "Southern Group" (a.k.a. "Deep-snow Caribou") of the Interior Wetbelt. This draft agreement would put the Deep-snow Caribou in much danger, because it proposes to take two more years of public process just to consider new protection. Meanwhile BC's unsustainable logging and rampant oil and gas development will be decimating the habitat under consideration. Four herds have been lost since 2014. A well-organized industry misinformation campaign is telling people that saving more habitat for caribou will destroy their jobs and communities. To outweigh these falsehoods, it is going to take every possible person who cares about BC's wildlife to write a letter to the government. If you care — act now!
See the government documents here. Fill out the government's online comment form here.   Click here to see VWS's map showing how much habitat of the Deep-snow Caribou has been logged. Click here for VWS's full 13-page submission to government. Many people prefer to write a letter rather than use the government's comment form. Click "more" to see VWS's key points for letter writing, plus email addresses to ensure your letter is received by government by May 31.
KEY POINTS FROM VWS'S 13-PAGE SUBMISSION
•  VWS supports federal intervention to enforce the Species at Risk Act, because the provincial government has had many years  to provide adequate habitat protection and has failed to do so.
•  VWS supports the Partnership Agreement with the West Moberly and Saulteau First Nations, for the management of South Peace caribou herds.
•  However, we cannot support the draft Section 11 Agreement because it is way too weak in habitat protection and does very little for the Southern Group of Mountain Caribou ("Deep-snow Caribou").
•  According to Environment Canada, the Mountain Caribou need IMMEDIATE intervention to protect more habitat. Instead the governments have already taken one year to produce the Section 11 Agreement. If approved as is, the Section 11 Agreement would use another two years for public process just to consider protecting more habitat. Two more years of habitat destruction is unacceptable.
•  The Southern Group of Mountain Caribou (Deep-snow Caribou) has had a caribou recovery program for 11 years that involved extensive analysis of habitat but too little protection. BC and the federal government do not need another two years to tell them where additional protection is needed, or even possible. These areas must be protected right away.
•  Instead the Section 11 Agreement would have planning tables stacked with industrial and commercial groups that have a conflict of interest. in that they exploit caribou habitat for profit. If we have to ask the permission of logging, oil and gas and heli-skiing companies, and snowmobile clubs, whether we can protect some habitat, we may as well throw the Species at Risk Act away.
•  If the governments insist on taking two more years of expensive, ineffective planning processes, habitat protection in the form of a moratorium for the duration of the talks should be provided while plans for permanent expanded habitat protection are drawn up.
•  Expanded snowmobile and heli-skiing closures are needed for the Deep-snow Caribou but do not appear in the Section 11 Agreement.
•  The draft Section 11 Agreement opens the door to just about any and all predator control. There are suggestions that killing cougars, bears and wolverines, in addition to wolves, is on the table. Predator control could become standard for all herds. VWS simply cannot accept the Section 11 Agreement on these terms.
TO SEND A LETTER BY EMAIL
Unfortunately the government did not supply an email address where letters could be sent by people who don't wish to use the government's form letter. Please send to the top address, with carbon copies to the others.
Darcy Peel
Director, Caribou Recovery Program
BC Ministry of Forests, Lands, Natural Resource Operations and Rural Development
Darcy.Peel@gov.bc.ca
Blair Hammond
Canadian Wildlife Service
Environment and Climate Change Canada
ec.retablissementcaribou-caribourecovery.ec@canada.ca
David Mutter
Executive Director, Species at Risk Recovery
BC Ministry of Forests, Lands, Natural Resource Operations and Rural Development
caribou.recovery@gov.bc.ca
https://www.vws.org/wp-content/uploads/2019/05/Grfroerer429-lr-web.jpg
300
432
Valhalla Wilderness Society
https://www.vws.org/wp-content/uploads/2019/09/logo-4-1.png
Valhalla Wilderness Society
2019-05-23 21:06:48
2020-06-20 13:22:04
URGENT!!! Deadline For Public Input On Mountain Caribou Extended To May 31, 2019