In September BC Forests Minister Doug Donaldson sent shock waves through the conservation community by announcing that only the Peace River region of BC will receive increased habitat protection for endangered Mountain Caribou. This denies additional protection to rapidly declining caribou herds of the Interior Wetbelt and Chilcotin regions. Instead, the government plans to boost caribou numbers for some of these herds by slaughtering more wolves from helicopters and killing cougars; this would expand wolf extermination over a vast area of BC.
Twenty-three environmental groups, animal protection organizations, wildlife biologists and photographers have sent a letter to BC Premier
John Horgan and federal Environment Minister, Catherine McKenna, protesting BC's refusal to protect additional habitat for BC's rare Deep-snow Mountain Caribou. The letter calls the Minister's claim that the caribou don't need more habitat "inexcusably erroneous", and says the government should disavow it before further caribou recovery planning proceeds. The signators have called on Environment Canada to enforce the Species at Risk Act to increase habitat protection.
For details,  read on.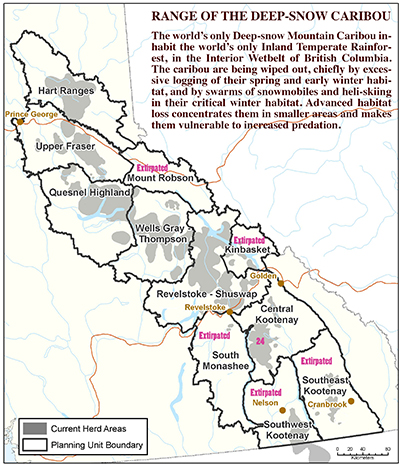 In 2007 the BC government admitted that habitat loss and fragmentation (chiefly from logging) were the chief reasons for the decline of the caribou. Yet it designed the new habitat protection so as not to significantly reduce logging, touting the plan as "no net loss" to the timber industry. There were 1,900 Deep-snow Caribou in 2007. After ten years under the recovery plan, there were only 1,240 caribou left alive.
The Hart Ranges, Wells Gray South, Wells Gray North, Columbia North, Columbia South, Frisby-Queest and Central Selkirk herds are all examples of declining Deep-snow Caribou herds whose habitat is still being clearcut. The Hart Ranges herd faces 78 planned cutblocks and a pipeline; what it will be getting is no new habitat protection, but slaughter of 80% of its wolves.
The Wells Gray South herd has clearcutting over an area as large as 500 football fields throughout their core critical habitat.
The government documents say 35-40% of remaining old-growth forest habitat of the Columbia North and South herds remains unprotected, and logging is ongoing. Years of predator and competitive prey culls and a maternity pen have only managed to hold the Columbia North herd more or less stable while logging companies haul out truck after truck of old-growth forest that is crucial to the caribou's long-term survival.
The Central Selkirk herd declined to only 24 animals while the government ignored yearly warnings from its own biologists that the herd was being displaced from critical winter habitat by snowmobiles and heli-skiing.