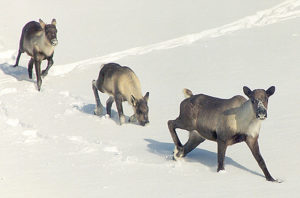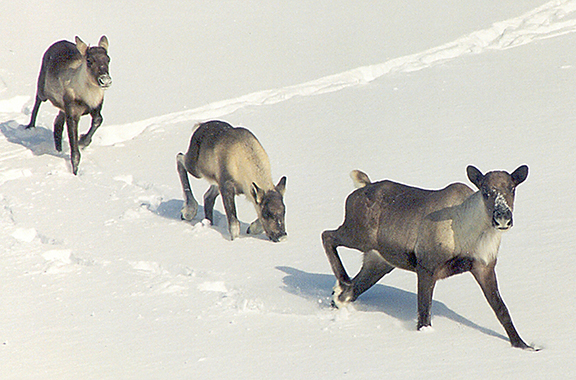 In September BC Forests Minister Doug Donaldson sent shock waves through the conservation community by announcing that only the Peace River region of BC will receive increased habitat protection for endangered Mountain Caribou. This denies additional protection to rapidly declining caribou herds of the Interior Wetbelt and other regions. Instead, the government plans to boost caribou numbers for some of these herds by slaughtering more wolves from helicopters and killing cougars; this would expand wolf extermination over a vast area of BC.
The Interior Wetbelt caribou are also called the "Deep-snow Mountain Caribou". They are the only caribou in the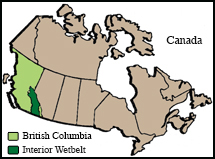 world that live in steep mountains and spend winter in the deep snow of high-elevation subalpine areas, where they survive solely on a diet of tree lichens. Scientists have classified them as genetically distinct, different from all other caribou in their habits, endangered and irreplaceable.
In May 2018 the federal Minister of Environment declared these caribou under "imminent threat of recovery", meaning that the full recovery of the herds may never be possible if habitat destruction continues.
The industrial and motorized backcountry recreation interests that destroy caribou habitat and displace the caribou from their critical feeding grounds are being very vocal in their opposition to increased habitat protection. We urge every possible Canadian concerned about BC's drastic loss of biodiversity to write letters to government and media are urgently at this time.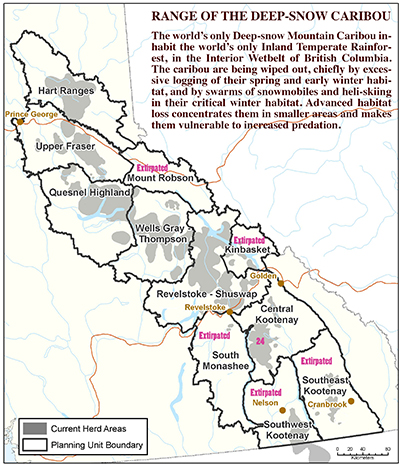 The chief reason Minister Donaldson gave for rejecting new habitat protection for these caribou was that his "analysts" determined that they already have enough protection. Who are these analysts? The claim is ridiculous.
To survive, Deep-snow Caribou need old-growth forest on gentle slopes. This is the same forest the logging companies want to log. Their habitat was already massively logged when, in 2007, the BC government launched a recovery plan. They were already isolated in a relatively small part of their original home range.
In 2007 the government admitted that habitat loss and fragmentation (chiefly from logging) were the chief reasons for the decline of the caribou. Yet it designed the new habitat protection so as not to significantly reduce logging, touting the plan as "no net loss" to the timber industry.
There were 1,900 Deep-snow Caribou in 2007. After ten years under the recovery plan, there were only 1,240 caribou left alive. By refusing to increase habitat protection today, the province is maintaining the exact same cap the government put on habitat protection in 2007 — which has so far lost 660 caribou. This is simply more of the BC government's colossal intransigence in refusing to reduce BC's unsustainable rate of logging to protect an endangered species.
This spring, a federal-provincial panel of biologists told the public that more habitat protection is needed or the caribou will not survive. BC released draft "Herd Plans". They show that the 2007 recovery plan left a quarter to a third or more of the last remaining "core" habitat unprotected for some herds. The Hart Ranges, Wells Gray South, Wells Gray North, Columbia North, Columbia South, Frisby-Queest and Central Selkirk herds are all examples of declining Deep-snow Caribou herds whose habitat is still being clearcut.
The Hart Ranges herd faces 78 planned cutblocks and a pipeline; what it will be getting is no new habitat protection, but slaughter of 80% of its wolves.
The Wells Gray South herd has clearcutting over an area as large as 500 football fields throughout their core critical habitat.
The government documents say 35-40% of remaining old-growth forest habitat of the Columbia North and South herds remains unprotected, and logging is ongoing. Years of predator and competitive prey culls and a maternity pen have only managed to hold the Columbia North herd more or less stable while logging companies haul out truck after truck of old-growth forest that is crucial to the caribou's long-term survival.
Central Selkirk herd down to 24: refusal to control winter recreation a key factor
This herd declined to only 24 animals while the government ignored yearly warnings from its own biologists that the herd was being displaced from critical winter habitat by snowmobiles and heli-skiing. Of the habitat that was protected from logging in 2007, only 3.3% of it was closed to snowmobiles, and part of the closure area is so steep it is crossed by avalanche tracks. Displacement can affect their nutrition and energy expenditure, potentially causing reproductive failure months later; it can also increase deaths by avalanches and predation.
Now VWS has been informed by a provincial biologist that the snowmobile industry and number of riders in caribou habitat is so large that the government can't control it. So, we are told, the days are gone when the BC government can close critical caribou winter habitat to snowmobiles, cat- and heli-skiing. Beleaguered biologists propose instead to follow the surviving caribou with radio-collars, and put a protected perimeter around wherever they are. But VWS has pointed out that this will do nothing about their displacement from high quality feeding grounds; the animals need to have areas protected from human invasion that stays put through the winter and give them adequate nutrition. VWS was also told that all the wolves and cougars around this herd have to be killed. More on that below.
Ministry of Forests Control Over Wildlife Management in BC
In its 2017 report on Grizzly Bear management, BC's Auditor General wrote that the government had shifted BC's Wildlife Branch in 2011 from the Ministry of Environment (MOE) to the Ministry of Forests, Lands, and Natural Resource Operations (FLNRO — now revised to FLNRORD). This effectively gutted grizzly bear protection, since only MOE has a legal mandate "to manage, protect and conserve" wildlife. FLNRO has a substantial conflict of interest in managing wildlife who depend upon intact forested habitat, because it's the ministry that approves new logging and logging roads, and it is notorious for promoting maximum possible logging.