VWS report to Enbridge Pipeline Review:
ONE MAJOR SPILL COULD WIPE OUT A CORE SPIRIT BEAR POPULATION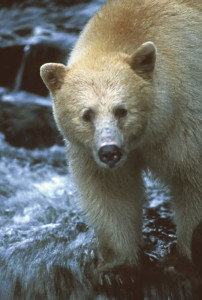 Gribbell Island lies in one of the most treacherous marine passages on the BC north where hundreds of huge tankers would carry Enbridge's deadly tarsands bitumen to China and other markets. In 2012 VWS biologist Wayne McCrory completed a report on the threat of a oil tanker spill to the bears of Gribbell Island and other coastal wildlife. A comparison of the claims made by the Enbridge environmental impact assessment with the facts of what actually happened in the Exxon Valdez oil spill shows that Enbridge enormously under-estimates the risks and impacts of a spill. Since all of the 100-150 black and white-phase Kermode bears would use the marine shoreline of Gribbell for travel and feeding on marine life, a major tanker spill would cause irreparable and long-term harm to this genetically unique "mother island of the white bears".
Click here to download Wayne McCrory's oral presentation of this VWS report, and more, to the Joint Review Panel on Enbridge, on January 28, 2013.