The Valhalla Wilderness Society is a registered charity that was founded in 1975, in the small village of New Denver, British Columbia, Canada. The village sits on Slocan Lake, with a grand view of Valhalla Provincial Park, achieved by the Society in 1983. VWS went on to successfully spearhead campaigns for the Khutzeymateen Grizzly Bear Sanctuary, Goat Range Provincial Park, and the Spirit Bear Conservancies on Princess Royal Island. VWS also played one of the key roles in the protection of South Moresby National Park Reserve. Its Endangered Wilderness Map of 1988 initiated the movement to double BC's park system to 12% of the province. Valhalla has led park campaigns that now protect over 560,000 hectares. The work resulted in numerous national and international conservation awards received by Chairperson Colleen McCrory.
The Valhalla Wilderness Society

Today British Columbia has over 1,500 species at risk, and that's only the ones that have been formally recognized. Scientists around the world have said that the loss of biodiversity is a global crisis that threatens the survival of humans. At its home base in the town of New Denver, across from the Valhalla Mountains on Slocan Lake, VWS remains dedicated to the role of fully protected areas in maintaining biodiversity; it is working on park proposals in BC's Inland Rainforest Region, on the coast, and in the Chilcotin region. However, there are many environmental impacts today that have no borders, such as climate change, or pollution from a mine, or the threat of an oil spill from tankers on the coast, or threats to wildlife. VWS has been involved in many activities trying to stop such impacts.
---
ACTION ALERT
Urgent Request for Letters!
B.C. GOVERNMENT PREPARES TO OPEN PARKS
TO PIPELINES AND OTHER DEVASTATING DEVELOPMENT
On February 13 the BC Government introduced the PARK AMENDMENT ACT (Bill 4) in the legislature. This bill could unleash a gold rush of pipelines, mines, IPPs, tourism resorts and even film-making in our parks. It would enable the government to permit exploration "research" for industrial development in parks and protected areas, even Class A parks. If studies show that a development, such as pipelines, transmission corridors or whatever, is feasible, it can then apply to have the park's boundary "adjusted" to allow the development. This means declassifying parts of parks.
Countless British Columbians spent their life energies, money, time, and efforts for decades to preserve some few areas free from economic exploitation, as a refuge for all our wild species, and for the public to have the opportunity to experience wholeness in nature. We have no other places in the province where we can find this rare and spiritually uplifting experience. Now, the government is ready to trash the work of over 75 years of preservation in a cheap, disastrous alliance with mega-profits corporations. Everyone who has ever valued our park system should denounce this action in the strongest terms.
Bill 4 has already has its First Reading in the Legislature
If our parks are to be saved, as many letters as possible must
be sent to government within a few days or weeks.
Park Amendment Bill - Action Alert with addresses for letters.
Park Amendment Bill - Submission to Gov't.
Posted February 18, 2014
---
URGENT:
HEARTLAND OF THE KHUTZEYMATEEN GRIZZLY BEAR SANCTUARY THREATENED BY PROPOSED PRINCE RUPERT GAS LNG ROUTE
Trans Canada Pipeline Company has been contracted by Petronas, a state company owned by the Malaysian government, to plan and build Canada's biggest natural gas pipeline through two provincially protected conservancies that adjoin the Khutzeymateen Grizzly Bear Sanctuary on the BC North Coast. Survey work has already started for a major 200 foot-wide right-of-way that will include a major industrial road and compressor station needed for the 4-foot diameter pipeline.
According to VWS bear biologist Wayne McCrory "The survey is apparently being carried out with no park use permit, but with endorsement from the Premier's office. However, a permit will be required for the next stage of creating drilling pads, and may soon be issued by the government; yet the public has been kept totally in the dark, only learning of the surveys from commercial bear viewing operators in the Khutzeymateen Inlet. Any permits issued in the protected conservancies will be in violation of the Park Act".
If allowed, the roaded pipeline corridor through the wilderness parks will set a bad precedent and allow for more pipelines or transmission lines to follow. According to McCrory the pipeline corridor will shatter the ecological integrity of the whole area, and is a threat to every grizzly bear for miles around. People are urged to write Premier Christie Clark and Environment Minister Mary Polack to ask that the surveys be stopped immediately and the pipeline not be allowed in parks and conservancies (See Take Action). See also links to VWS press release and map below.
Download Sept. 5/13 Press Release
Download Map of pipeline route through area

---
STUDY SHOWS PROPOSED NEW PROSPERITY GOLD-COPPER MINE AT FISH LAKE IN THE BC CHILCOTIN THREATENS UNIQUE POPULATION OF DRYLAND GRIZZLY BEARS
VWS and Friends of Nemaiah Valley (FONV) recently made presentations to the Federal Review Panel in Williams Lake showing that Taseko's proposed open pit mine at Fish Lake would push the threatened Chilcotin grizzly bears over the edge of extinction. This is the second round of Panel hearings for what could be Canada's largest open pit mine. In 2010 the Federal Review Panel turned down the mine proposal citing endangerment to grizzly bears, fisheries, tourism and Xeni Gwet'in traditional values. The Federal Minister of Environment said the mine could not go ahead but then later announced that a second Panel hearing would be convened for a revised proposal that would not drain Fish Lake; this was despite that Taseko representatives had stated to the 2010 Panel that this option would be worse than draining Fish Lake. Recently, both federal and provincial hydrology experts as well as those representing First Nations have all told the New Prosperity Panel that the current mine proposal will seriously damage Fish Lake, its large trout population, and contaminate some of the surrounding watershed. First Nations and many others are adamantly opposed to the mine.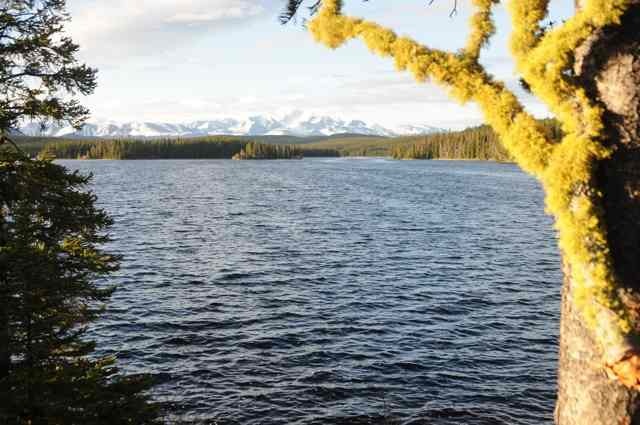 Download Wayne McCrory's July 2013 grizzly bear report for FONV:
Download VWS presentation to Panel:
Download media on VWS presentation to the Panel: http://www.watershedsentinel.ca/content/new-prosperity-mine-heart-wild-horse-preserve
---
VWS report to Enbridge Pipeline Review:

ONE MAJOR SPILL COULD WIPE OUT A CORE SPIRIT BEAR POPULATION
Gribbell Island lies in one of the most treacherous marine passages on the BC north where hundreds of huge tankers would carry Enbridge's deadly tarsands bitumen to China and other markets. In 2012 VWS biologist Wayne McCrory completed a report on the threat of a oil tanker spill to the bears of Gribbell Island and other coastal wildlife. A comparison of the claims made by the Enbridge environmental impact assessment with the facts of what actually happened in the Exxon Valdez oil spill shows that Enbridge enormously under-estimates the risks and impacts of a spill. Since all of the 100-150 black and white-phase Kermode bears would use the marine shoreline of Gribbell for travel and feeding on marine life, a major tanker spill would cause irreparable and long-term harm to this genetically unique "mother island of the white bears".

Click here to download Wayne McCrory's oral presentation of this VWS report, and more, to the Joint Review Panel on Enbridge, on January 28, 2013.

A Review of the Threats of an Oil Tanker Spill (38 pages)
---
GRIBBELL ISLAND - MOTHER ISLAND OF THE WHITE SPIRIT BEAR – NEEDS TO BE PROTECTED
Small but rugged Gribbell Island (20,690 ha) sits astride two of BC's central coast marine shipping lanes, the Inside Passage and Douglas Channel. A UBC genetics study headed by Dr. Kermit Ritland discovered that the island is evolutionarily significant as over 40% of its small isolated population of 100-150 Kermode bears, a subspecies of the North American black bear, are white. This represents Canada's Galapagos. Evolutionary biologists believe that the gene for the white coat evolved on Gribbell and they call it the "mother island of the white bears". A 2012 VWS cumulative effects study by Wayne McCrory showed that past over hunting and trapping and collection of white hides for museums combined with clearcut logging and declining salmon runs may be putting this unique bear gene pool on the edge. Climate change also will have an impact. The island needs to be protected by the province and the Gitga'at First Nation as a conservancy or park.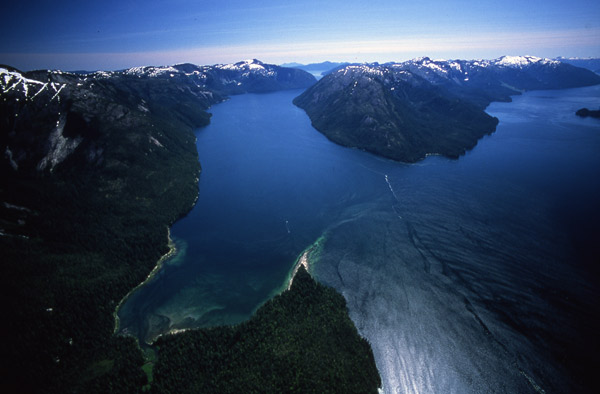 The VWS spirit bear project is supported by the Winton Foundation for the Welfare of Bears. See the spirit bear in their June Newsletter: wintonbearfoundation.org
Learn more about Dr. Ritland's exciting spirit bear genetic studies: genetics.forestry.ubc.ca/Ritland
Article in Evolution (Volume 66. Issue 2) on population genetics of spirit bear: onlinelibrary.wiley.com › Evolution › Evolutionary Biology › Evolution
Download the reports SPIRIT BEARS UNDER SIEGE:
The Case for the Protection of Gribbell Island (58 pages)
Link to Vancouver Sun article
---
SELKIRK MOUNTAIN CARIBOU PARK PROPOSAL


A population of about 85 endangered mountain caribou, primeval Inland Temperate Rainforest with trees up to 1,800 years old, hundreds of species of lichens, rare plants, core habitat for blue-listed grizzly bears and wolverines, and spawning grounds of the bull trout of Kootenay Lake and the Arrow Lakes Reservoir: this is the Selkirk Mountain Caribou Park Proposal. The Valhalla Wilderness Society begins 2011 with the release of this 28-page report chock full of maps and colour photographs.

Download the Fact Sheet (2 pages)
---
A New Project Initiative for the Valhalla Wilderness Society
Wolves and Wild Horses, Secrets of the Brittany Triangle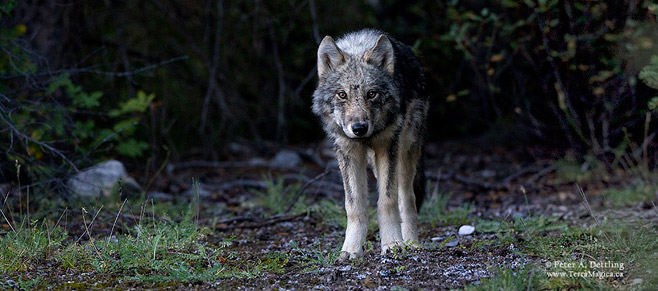 The Valhalla Wilderness Society has teamed up with Friends of the Nemaiah Valley (FONV) and the Xeni Gwet'in community of the Tsilhqot'in First Nation to foster research surrounding the dietary habits of grey wolves, Canis lupus. The project area is in the unique wild horse region of BC's Chilcotin in and around the Brittany Triangle and the Nemaiah Valley. The groups are sponsoring graduate-level research by wolf biologist Sadie Parr to fill an important knowledge gap about predator-prey interactions among wolves, wild horses and domestic livestock. This knowledge will help us in our efforts to foster coexistence among wolves and people as we combine science with community-level outreach goals. Sadie has prepared a Rancher's Toolkit for predator friendly practices.
Download VWS newsletter on Sadie's Wolf Study
Download Toolkit for Predator Friendly Practices: www.wolfawarenessinc.org
---
FLOODING OF CARPENTER CREEK CREATING HAZARDOUS CONDITIONS IN SANDON AND NEW DENVER
The late June storm that flooded Calgary raised havoc across its path in the Southern Kootenay Region. This letter documents the destructive force of Carpenter Creek and the damage that it has done in the historic city of Sandon, and the threat that is posed to the Village of New Denver 13 km downstream. This letter also documents the intolerable situation that government agencies have allowed to build up along the flood plain of Carpenter Creek, in Sandon, that left without remedy could compound future flood events. More pictures will follow shortly.
Download letter to Ministry of Environment
Download response from MOE representative
Follow-up response to MOE representative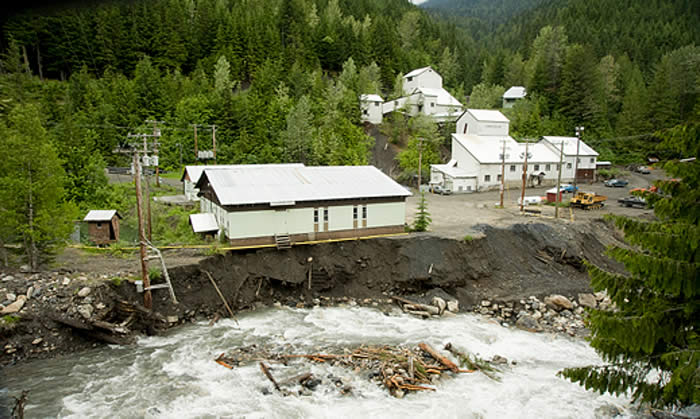 ---
DNA STUDY ON BC-BRITTANY TRIANGLE WILD HORSES CHALLENGES HISTORY
A soon to be released study of the genetics of wild horses in a remote corner of the province poses more questions than it answers. The study by world horse DNA expert Dr. Cothran and biologist Wayne McCrory was done at the Texas A & M University for VWS, FONV (Friends of Nemaiah Valley) and the Xeni First Nations. It is the first of its kind in western Canada. The Brittany Triangle is the remotest area left in western Canada where some 200 wild horses have roamed since before the coming of Europeans. The DNA study area is part of the Eagle Lake Henry Cayuse wild horse reserve created by the Xeni Gwet'in First Nations – the only wild horse preserve in western Canada. DNA was analyzed from blood samples taken from domestic horses captured in the wild as well as from hair samples collected from tree branches and bedding areas. Historic documentation indicates that Brittany horses most likely originated from horses of Spanish ancestry brought in to the area by Tsilhqot'in First Nations about 1740 along ancient trade routes from Plateau grasslands to the south. However, the DNA study found very little remaining Spanish ancestry. The origins were more from the Canadian Heritage Horse breed or its ancestors. The most intriguing result of the genetic study is the possibility that Yakut horses, an ancient horse of Russian heritage, also contributed to the origins of the herd. How these bloodlines got to the remote Chilcotin is a mystery since the Russians only ever brought a small number of horses across to their Pacific coast fur trading posts. The report will be released in several months.

Download Map of Chilcotin Wild Horses
---
BC GOVERNMENT'S DRAFT WOLF MANAGEMENT PLAN
The public was given only 3 weeks to review and respond to a draft plan for wolf management. Key elements of the plan include:
Increased killing of wolves to protect cattle
High intensity wolf killing to protect mountain caribou, with possible machine-gunning
of wolves from helicopters.
No place in BC where wolves will be protected to live a natural pack life
No designated areas for nonconsumptive uses such as wolf viewing,
photography and scientific research

Tying the Conservation Officers up in partnership with cattlemen, hunters associations
The deadline for public input was December 5. But please join VWS and other BC environmental groups in asking for an extension of the public review until January 30, 2013.
Download the Valhalla Wilderness Society's submission.
---