The Valhalla Wilderness Society is a registered charity that was founded in 1975, in the small village of New Denver, British Columbia, Canada. The village sits on Slocan Lake, with a grand view of Valhalla Provincial Park, achieved by the Society in 1983. VWS went on to successfully spearhead campaigns for the Khutzeymateen Grizzly Bear Sanctuary, Goat Range Provincial Park, and the Spirit Bear Conservancies on Princess Royal Island. VWS also played one of the key roles in the protection of South Moresby National Park Reserve. Its Endangered Wilderness Map of 1988 initiated the movement to double BC's park system to 12% of the province. Valhalla has led park campaigns that now protect over 560,000 hectares. The work resulted in numerous national and international conservation awards received by Chairperson Colleen McCrory.
---
The Valhalla Wilderness Society in 2012
If you like what we did in 2012, please contribute so we can continue in 2013

Today British Columbia has over 1,500 species at risk, and that's only the ones that have been formally recognized. Scientists around the world have said that the loss of biodiversity is a global crisis that threatens the survival of humans. At its home base in the town of New Denver, across from the Valhalla Mountains on Slocan Lake, VWS remains dedicated to the role of fully protected areas in maintaining biodiversity; it is working on park proposals in BC's Inland Rainforest Region, on the coast, and in the Chilcotin region. However, there are many environmental impacts today that have no borders, such as climate change, or pollution from a mine, or the threat of an oil spill from tankers on the coast, or threats to wildlife. VWS has been involved in many activities trying to stop such impacts.
---
VWS 2012 BEAR SMART REPORT FOR THE UPPER SLOCAN VALLEY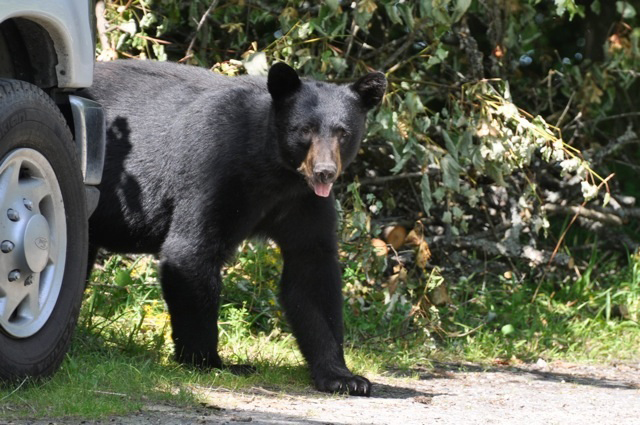 Jorg Becker
In 2012 biologists Maggie Paquet and Wayne McCrory completed a detailed landmark bear study for the Valhalla Society, partly under the provincial Bear Smart program, on bear-human conflicts and ways to reduce problems with bears in the Upper Slocan Valley. Thanks to numerous proactive measures by BC Parks and other agencies, there are now few conflicts in the backcountry. Most conflicts occur with black bears in the front country. Here, even though agencies and communities have made significant investment in bear-proofing and other measures to control attractants, the study recommends completion of bear-proofing of garbage and other attractants, improved bylaws, relocation of bears when they first show up in communities rather than shooting them when they become problematic and other measures. For more details Read More.
---
VWS report to Enbridge Pipeline Review:

ONE MAJOR SPILL COULD WIPE OUT A CORE SPIRIT BEAR POPULATION
Gribbell Island is the birthplace of British Columbia's Spirit Bears, and is currently proposed for protection as a conservancy by the Valhalla Wilderness Society. But the Island lies in the most treacherous passage of coastal channels where hundreds of huge tankers would carry Enbridge's deadly tarsands bitumen to China and other markets. In 2012 VWS biologist Wayne McCrory completed two reports on Gribbell Island and the threat of a oil spill to the bears and other coastal wildlife. These reports review the critical importance of BC's coastal islands to biodiversity, because of their unique gene pools, including the spirit bears but much more.

A comparison of the claims made by the Enbridge environmental impact assessment with the facts of what actually happened in the Exxon Valdez oil spill shows that Enbridge enormously under-estimated the risks and impacts of a spill.

Click here to download Wayne McCrory's oral presentation of this VWS report, and more, to the Joint Review Panel on Enbridge, on January 28, 2013.
Download the reports SPIRIT BEARS UNDER SIEGE:
A Review of the Threats of an Oil Tanker Spill (38 pages)
The Case for the Protection of Gribbell Island (58 pages)
---

The flat-topped mountain is in Glacier National Park. Everything to the right of it is in the existing park. The area to the left of it is in the Selkirk Mountain Caribou Park Proposal. Photo by Gary Diers, Purcell Alliance for Wilderness.
INCOMAPPLEUX WILDERNESS STILL NEEDS YOUR HELP
January 03 Deadline For Public Input

A sixth overlapping heli-ski tenure and a new 16-person backcountry
lodge near the Incomappleux River's ancient forest?
The Valhalla Wilderness Society says "No!" This 30,000-hectare intact wilderness is a refuge critical to the survival of the grizzly bears that use Glacier National Park (Environment Canada report, 1984). The government has already dealt a staggering blow to grizzly bears in the Purcell Range, when it approved Jumbo Glacier Resort. Now a proposal for a commercial lodge on Battle Mountain raises concerns about the further spread of human habitation in the grizzly bears' home, as well as possible commercial overuse and domination of a supreme forest legacy that should belong equally to everyone. And with grizzly bears, wolverines, mountain goats and potential mountain caribou using these mountains, how can we allow a sixth heli-skiing tenure?
Send the government a submission at http://www.arfd.gov.bc.ca/ApplicationPosting/viewpost.jsp?PostID=35245
Or address an email to:
Nicole McKechnie
Land Technical Officer
Ministry of Forests, Lands and Natural Resources
Cranbrook, BC
Nicole.McKechnie@gov.bc.ca
Download the VWS ACTION ALERT!
Download the VWS submission to government (7 pages)
---
SELKIRK MOUNTAIN

CARIBOU PARK PROPOSAL

Located in the Central Selkirk and Purcell Ranges of southeastern BC, this park proposal is designed to rescue remnant stands of ancient Inland Temperate Rainforest and to connect three existing parks with corridors for wildlife.

It would protect:

Forests of ancient cedars up to 1,800 years old

Hundreds of species of lichens, many rare plants and mushrooms

A herd of about endangered 90 Mountain Caribou

Grizzly Bears fishing for Kokanee salmon
Core habitat for blue-listed Wolverines

Spawning grounds for the blue-listed Bull Trout of Kootenay and Arrow lakes.



Only YOU Can Help Get This Area Protected - Here's Your Personal Action Package
With this material you can learn more about the proposal, write a letter to government, sign the petition, and collect the signatures of other people.
Fact Sheet (pdf, 2 pages)
Petition (pdf, 1 page)
How to participate in the petition drive (pdf, 1 page)
Sample letter to government with addresses (pdf, 1 page)
Park Report (pdf, colour photos, maps, 30 pgs)
Colour, high resolution for printing
Colour, low resolution for viewing
---
CRISIS ALERT!
BC GOVERNMENT'S DRAFT WOLF MANAGEMENT PLAN
The public was given only 3 weeks to review and respond to a draft plan for wolf management. Key elements of the plan include:
Increased killing of wolves to protect cattle
Hi-intensity wolf killing to protect mountain caribou, with possible machine-gunning
of wolves from helicopters.
No place in BC where wolves will be protected to live a natural pack life
No designated areas for nonconsumptive uses such as wolf viewing,
photography and scientific research

Tying the Conservation Officers up in partnership with cattlemen, hunters associations
The deadline for public input was December 5. But please join VWS and other BC environmental groups in asking for an extension of the public review until January 30, 2013.
Download the Valhalla Wilderness Society's submission.
---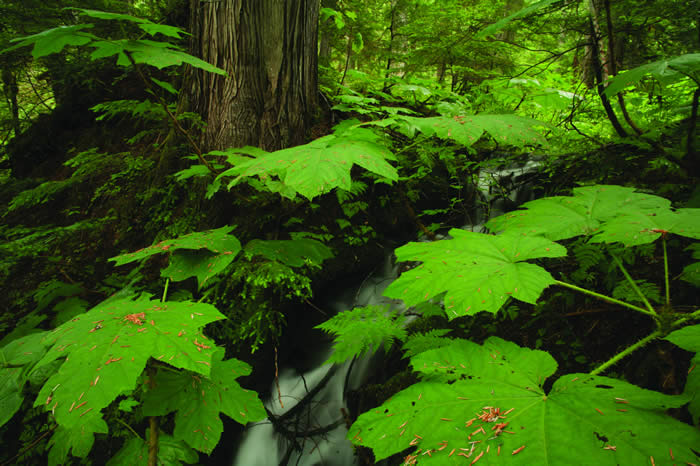 Top: Incomapleux forest, lush forest undergrowth. Photo by Alan Watson
Bottom: VWS director Craig Pettitt (left) with Michael Sather, NDP Deputy Environment critic
Photo by Anne Sherrod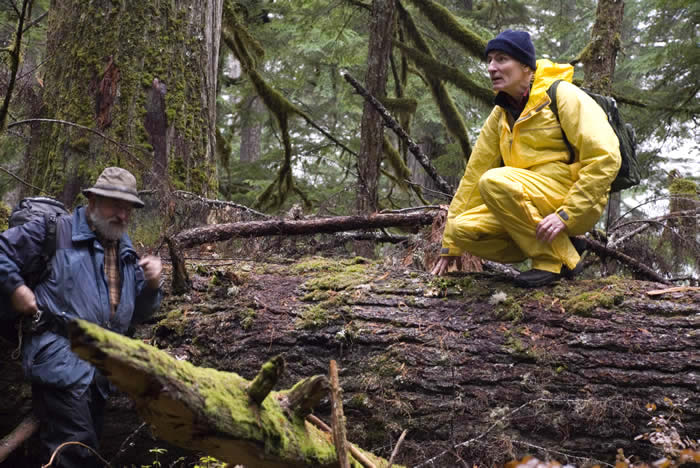 ---
Assigned Clearcuts While Industry Logs the Old-Growth
Very little is left of the old-growth forest habitat of the Central Selkirk Mountain Caribou. If logging of it continues, this important herd will disappear forever.
---
Update on Implementation of BC Mountain Caribou Recovery Plan
On October 16, 2007 the BC Government announced its new plan to save the mountain caribou. The Valhalla Wilderness Society was not part of this agreement, had nothing to do with setting its terms, and is strongly opposed to it. An implementation process was set up to determine how the new habitat protection will be distributed. It is now being carried out by five Habitat Teams in eight planning units. VWS has been added to the consultation list. Our aim is to monitor and provide input on location of the new protected habitat. By participating in this way, VWS in no way means to lend our support to the overall plan.
---
Planning Participants Must Sign Confidentiality Agreement to Obtain Copy of Final
Implementation Plan for Saving Mountain Caribou
The public process on a recovery plan for the endangered mountain caribou isn't public anymore. The BC government is forcing people to sign a confidentiality agreement in order to obtain a copy of the final draft implementation plan.